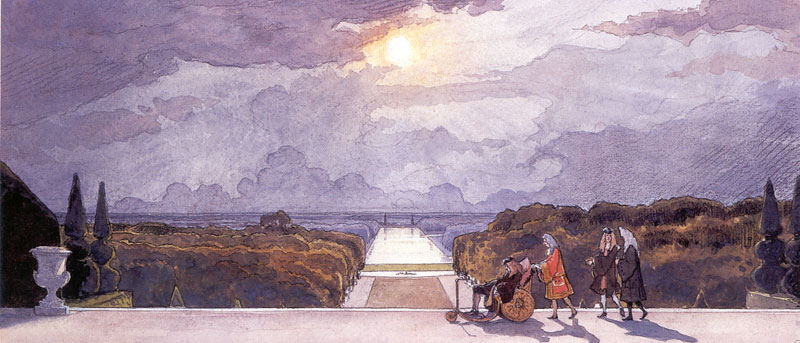 From childhood, the famous Russian modernist Alexander Benois was drawn to the study and depiction of European and Russian baroque. With great success in his works he combined traditional Russian folk art and modern European trends. The atmosphere in his childhood years in his house was very conducive to the development of artistic skills, so he began to draw very early.
During his life in Paris, Alexandre Benois closely studied the life and art of the era of Louis XIV. At that time, he creates a cycle of paintings dedicated to the extraordinary beauty and graceful splendor of Versailles. The splendor of the 16th century Benoit shows the viewer through the prism of the 20th century.
On the canvas "Versailles. The King's Walk "structures and nature become one. The long glorious history of many royal families is preserved in these alleyways, statues. Benoit in his painting depicted the image of a whole era of the past. The Versailles Gardens are a magnificent example of French Baroque.
Canvas "Versailles. The King's Walk "is filled with the atmosphere of a Versailles park. The gray vestment of the sky occupies a large space in the painting. The sun's rays shine through the clouds, a shady alley stretches into the distance and divides the park into two parts. The quiet, calm landscape is enlivened by the small figures of the king and his small retinue. The king, an old man, is driven in a carriage by a young servant, the other two are walking behind and talking about something.
The use of a pencil by Alexander Benois adds a certain volume to the painting.
Year of painting: 1897.
Painting dimensions: no data.
Material: paper.
Writing technique: gouache, pencil, watercolor.
Genre: historical painting.
Style: post-impressionism.
Gallery: no data.