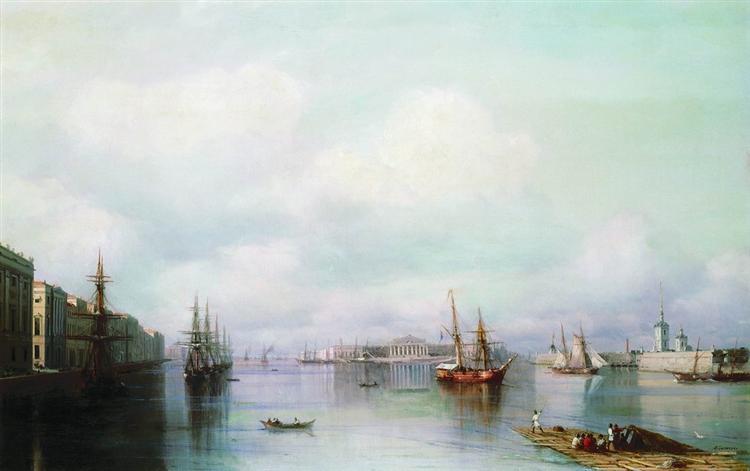 The main stylistic direction of Ivan Aivazovsky's work is seascapes, it is in this genre that the artist has reached extraordinary heights. Nevertheless, there are other paintings by Aivazovsky. For example, in the painting "View of Petersburg" there is no sea, but there is a watery surface of the river – the waters of the Neva seem to occupy the entire space of the canvas, houses are trying in vain to keep them.
The endless sky covered with clouds, imperceptibly for the viewer, flows into the boundless surface of water. The setting sun barely plays with glare on the water, its light is no longer enough to determine where the water ends and the sky begins. The artist painted both the sky and the river in almost the same color – light gray, gray-turquoise.
On this canvas, as on all the others by Ivan Aivazovsky, the main character is water in different images: rivers or seas. Peter and Paul Cathedral, Stock Exchange, Winter Palace in this grandiose performance are just scenery to demonstrate the greatness of the river.
The picture shows almost all the sights of St. Petersburg, as well as shows the active life of the city and the river of that time.
Petersburg has always remained a special place for Aivazovsky – here he fully developed as an artist. With his painting "View of Petersburg", as well as with many of his other works, he shows the grandeur and grandeur of the elements of water, in this case – the Neva River.
This canvas is much less familiar to the audience than the works with views of St. Petersburg, written earlier. The picture is full of signs of the late Aivazovsky – calm water, a description of ordinary, everyday events.
Year of painting: 1888.
Painting dimensions: no data.
Material: canvas.
Writing technique: oil.
Genre: urban landscape.
Style: romanticism.
Gallery: National Gallery of Armenia, Yerevan.